Who doesn't love a good pickled carrot? Pickled carrots are delicious, tangy, and fun to eat! Pickling is one of the classic ways of preserving vegetables. Of course, pickling can be done with many other vegetables, but why not try it out on some fresh carrots? While there are different pickling techniques, carrots are most commonly pickled in vinegar. Learning how to pickle carrots is very easy and the result is deliciously tangy and addicting.
This blog post will introduce you to a world of pickled carrots that you can experiment with. All you need are a few basics, after which you are free to add your variations to the recipes. The basic pickling process is easy; all you need to do is make a brine (vinegar, salt, sugar, spices), heat it, and pour it all over your vegetable of choice. Let the entire mixture cool to room temperature and marinate for at least 2 hours, and your pickle is ready!
How to Pickle Carrots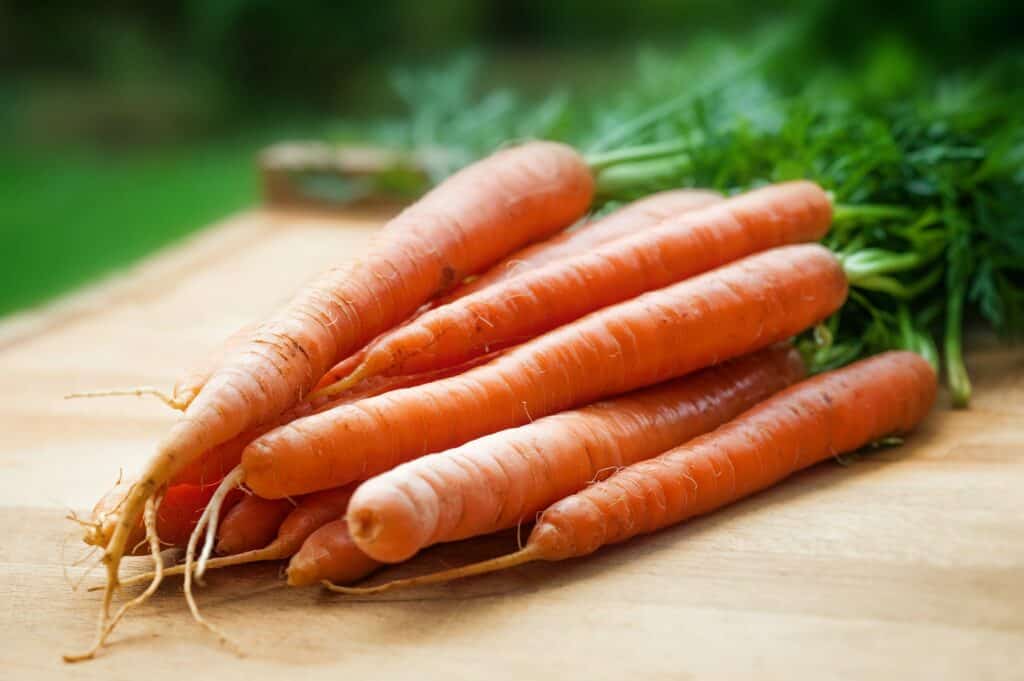 There are a few variations that you can try out when learning how to pickle carrots. In the below sections, we have shared three recipes, all of which are delicious!
Depending on how you plan on using your pickled carrots, you can prep them in different ways.
Pickled Carrot Sticks: These make a great addition to sandwiches, burritos, or even when eating right out of the jar. Cut the carrots into sticks that are the length of a matchstick and are about ¼ inch thick. If you prefer, you can even leave them larger to enjoy straight out of the jar.
Pickled Carrot Slices: These slices serve great as a side dish. Peel and cut the carrots into slices that are ⅛ inch in thickness. You can be as decorative or as simplistic with the slice cut as you wish.
Grated and Pickled Carrots: These grated and picked carrots serve as a delicious topping to your bowl of ramen and several other dishes. They will also taste great in coleslaw or a tossed salad!
Quick Pickled Carrots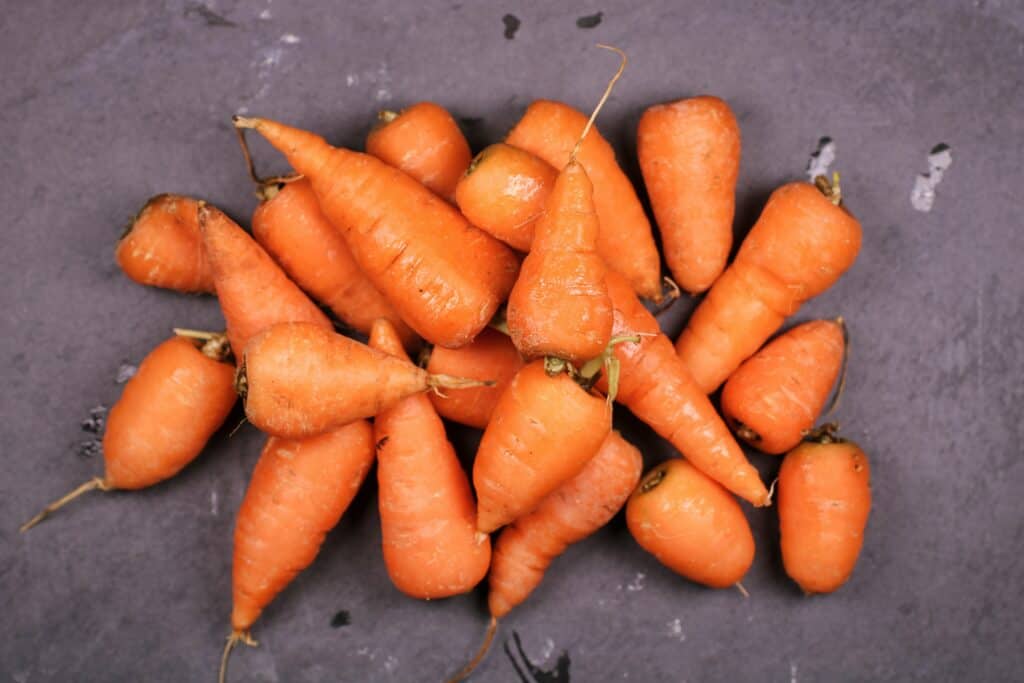 Ingredients:
1 lb carrots, peeled and prepped
1 cup water
1 cup distilled white vinegar
2 tsp kosher salt
1½ tsp sugar
Method:
In a saucepan, add the water, vinegar, sugar, and salt. Bring it to a simmer on medium heat while occasionally stirring to help the sugar dissolve. Taste the mixture and adjust the seasoning if needed.
Next, add your prepared carrots to a quart-sized jar (or two pint-sized jars) and pack them in tightly.
Pour the hot brine over the carrots so that they are covered completely. If you are a little short on the brine, you can add a little vinegar or water.
Seal the jar and let the carrots marinate in the brine for at least 2 hours. If you have a little extra time on your hands, let the jar sit in the refrigerator for up to 12  hours before serving.
Spicy Pickled Carrots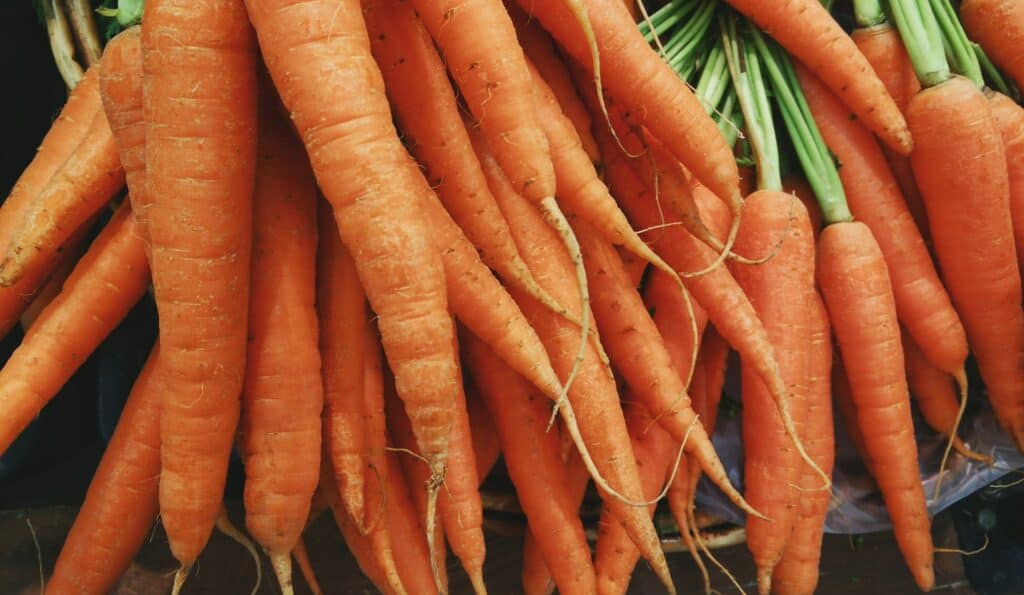 You can add a little oomph to your pickled carrots by adding some spices to your brine. The combination of spices can be varied according to preference, but here is a recipe that works great!
Ingredients:
1 lb peeled and prepared carrots
1 cup water
1 cup distilled white vinegar
1 tsp whole black peppercorns
1 tsp crushed red pepper flakes
1 tbsp kosher salt
⅓ cup sugar
2 large garlic cloves
Method:
In a small pot, add the peppercorns and chili flakes and then, toast them over medium-low heat until they are fragrant.
Add the vinegar, water, salt, and sugar to the pot and increase the heat to a medium flame. Let the solution come to a boil while stirring it occasionally to help the sugar dissolve.
Pack your carrots and garlic into a quart-sized jar or two pint-sized jars.
Once the brine is ready, pour it over the carrots and seal the jar shut. Let the carrots marinate in the brine for at least 2 hours before you use them.
Vietnamese Pickled Carrots
The Vietnamese carrot and daikon pickles are traditionally served with a street sandwich called banh mi. They are easy to make and have a slightly sweet taste that you can use in your sandwiches, coleslaw, or even eat them straight!
Daikon is a mild white radish that gives this pickle another depth of flavor that makes it a favorite. The daikon and carrots used in this recipe should ideally be cut into small sticks about ⅛ to ¼ inch in thickness.
Ingredients:
1 lb peeled and prepped carrots
½  lb peeled and prepped daikon
1 teaspoon salt
5 tablespoons sugar
5 tablespoons distilled white vinegar
3 cups warm water
4 thai chili peppers (optional)
Method:
In a large bowl, add the carrots and daikon. Add 1 tablespoon of sugar and mix everything for 2 minutes. Add 1 tablespoon of salt and mix again for 1 minute.
Allow the vegetables to sit for 10 minutes to absorb the salt and sugar and at the same time release some of their juices.
Rinse them thoroughly in some cool water and squeeze in batches to remove the excess water.
Pack them into jars tightly, leaving just a little bit of headspace at the top.
In a saucepan, add the remaining sugar, water, and vinegar. Stir the solution until the sugar has dissolved completely. For a bit of spice you can add 4 chopped thai chili peppers to the brine as well.
Once the sugar has dissolved completely, pour the brine into the jars, covering the carrots and daikon completely.
Seal the jars and let them at least sit overnight before eating. Over time, the flavor will develop more. You can store these jars in the refrigerator for up to 6 – 8 weeks.
Conclusion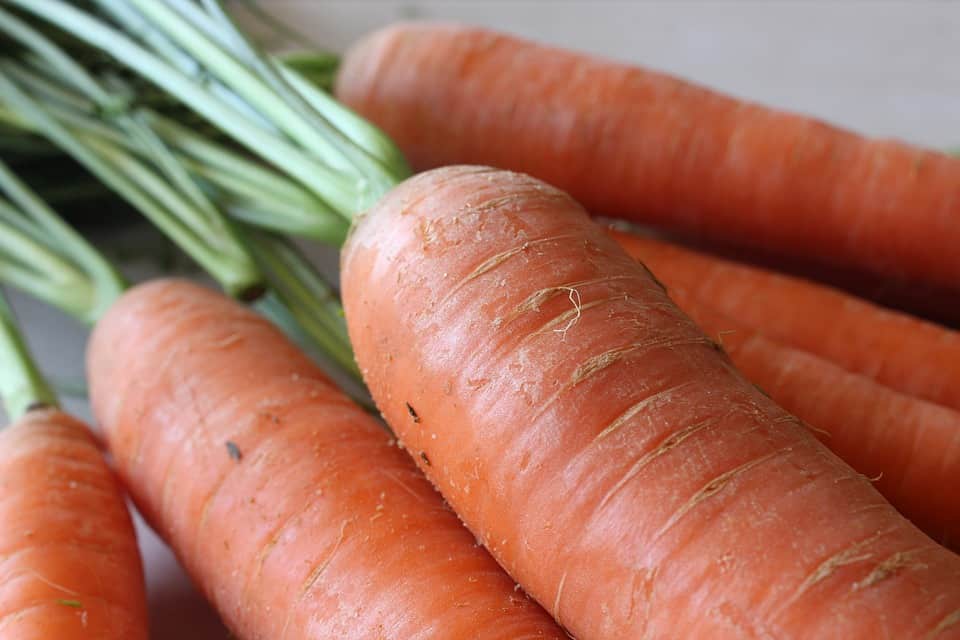 Try out these simple carrot pickling recipes, and they are bound to be a hit with your friends and family for sure! And while these pickling recipes won't stray you wrong, don't be afraid to give the recipes a twist of your own; after all, that's what makes learning how to pickle carrots so fun!