You cannot eat everything at once, and neither can you waste them. But normal goods and food items don't stay fresh for so many days. So don't you wish to find techniques and something to keep certain food items fresh for days? Obviously, you do, that is why we are here to share some tips and tricks to keep your mushrooms fresh with this amazing guide on canning mushrooms.
The answer to all your questions and the solution to all your problems is the process of canning. Now you must be wondering what on earth is canning. So basically, canning is a process of preserving food items. It includes keeping the food items in a jar or any other container. And after that, heating them at a temperature at which all the microorganisms that spoil the food dies. At the heating process time, the air gets out of the jar, and after it cools down, a vacuum seal is formed to keep the food fresh. Isn't it interesting?
Canned or bottled mushrooms are indeed the best option available for you in the market. They not only save your money but keep you healthy as well. Canned foods are a rich source of diet. Most importantly, they are easy to use and are cheap. And canned mushrooms are also a good source of vitamin B and various proteins. Furthermore, they are tastier than normal mushrooms. Also, they work as a substitute for meat in the various vegetarian dishes. The most important quality of home-canned mushrooms is that they taste delicious and yummy. The mushrooms that we buy from the store don't taste good and taste like metal, rubber, and unfresh. But the taste of home-canned mushrooms is just so superb, real, and fresh.
What kind of Mushrooms?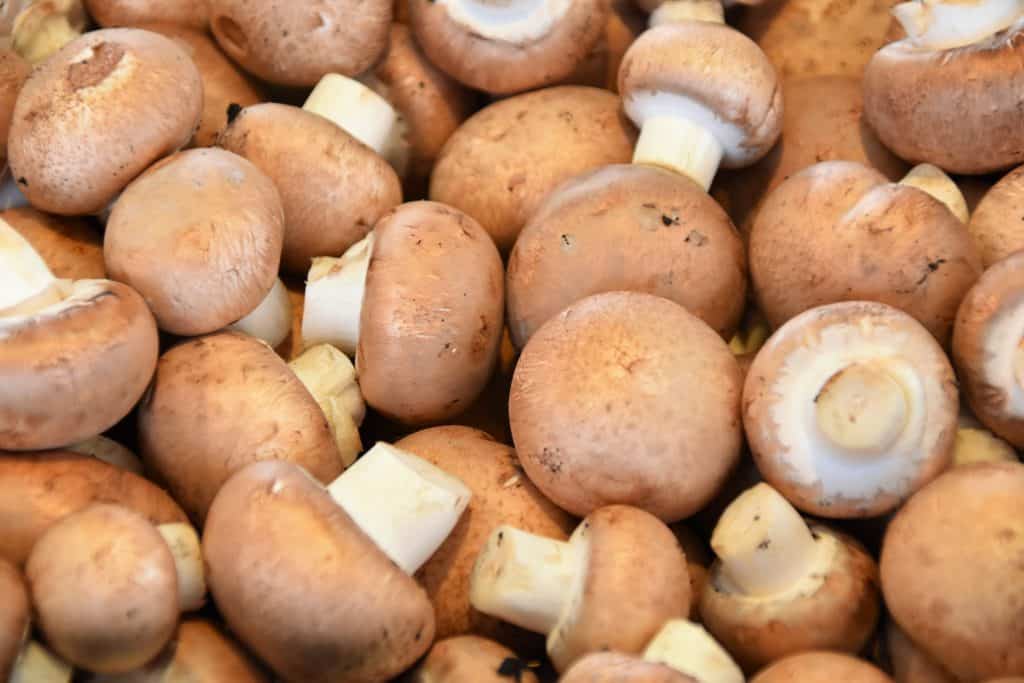 You need to know that mushrooms in their rawest form don't last longer than usual. So you need to either marinate them, dehydrate them, or keep them canned. You can marinate the mushrooms by deep-frying them in the oil. Also, plain mushrooms must be pressure canned by a pressure canner.
Now, there are certain types of mushrooms, and only a single type of mushroom can be pressure canned, and others can be marinated and dehydrated. For example, only white button-type mushrooms can be canned and kept in containers. The reason may be that mushrooms vary in size and shape, some are small, and some are large, and do not want untrained people to try canning wild mushrooms also, because the packaging time, type of package, and the density of the mushrooms affect the time of processing them. That is why the other kinds of wild mushrooms must be kept frozen or dehydrated.
How many mushrooms exactly?
Look, this is a dynamic world, and everything keeps changing so quickly from technology to people, from preferences to measurements. So, these numbers are, for instance, and are approximate values. You can calculate the correct measurement by their ratios.
On average, you will need about 1 kilogram of mushroom for half a liter of canned mushrooms. Using this ratio, you can calculate yours. Let's now move further to the step-by-step recipe for canning mushrooms.
Process of canning the Mushrooms
Canning mushrooms is not a difficult job, you can easily can them at your home. Let us now look at the steps of how to can mushrooms at home. Read them below.
Ingredients
There are certain ingredients you'll need for canning mushrooms, they are as follows-
Table Salt
Ascorbic acid powder, vitamin C tablet, or fruit fresh.
Mushrooms – On an average half pounds of mushrooms are required per canner of 9 pints.
Equipment
As you cannot have the mushrooms in your hand, you'll need some equipment and containers. They are-
Pressure Canner
Canning jars
Pot and a saucepan
Steps of Canning Mushrooms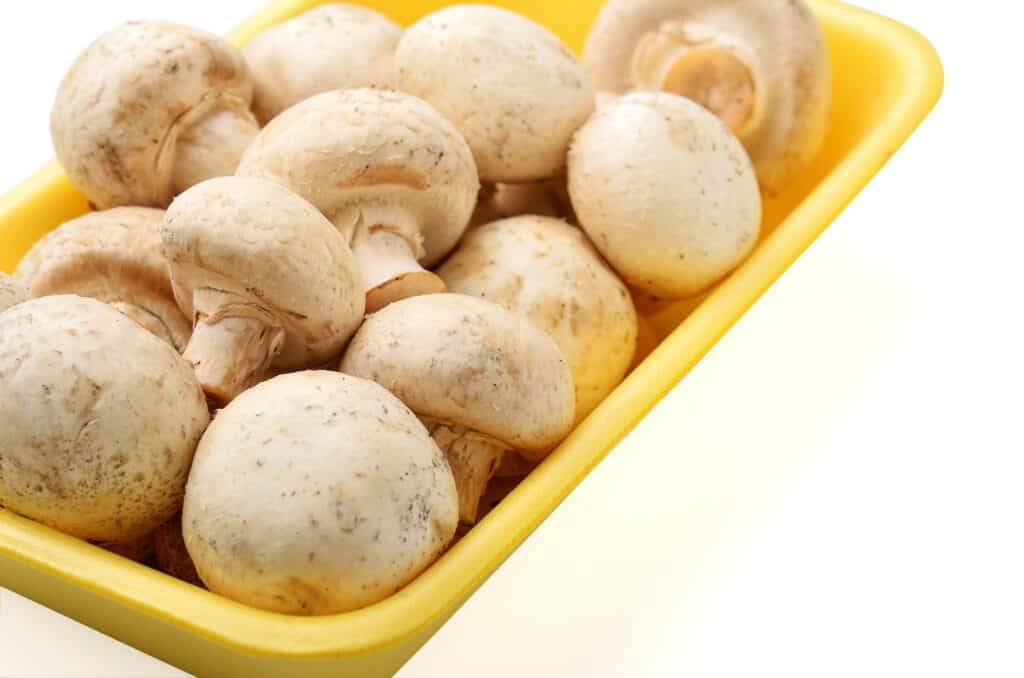 Okay!! So your wait is over now, here's your step by step of canning the mushrooms. All you need to do is to follow them as they are and you'll get canned mushrooms as you want them. Here are the quick steps-
1. Picking and Washing
The very first step is picking and washing the mushrooms. This is the most important step as everything depends on the quality and the type of mushrooms. Now you must be thinking about what type of mushrooms you should pick. So, you need to pick bright-colored, small-medium sized, with tight veils and closed caps. Please keep in mind to not can wild mushrooms. After picking up mushrooms, cut their stems, soak them in cold water and wash them thoroughly.
2. Cutting
After choosing the mushrooms of your choice, make sure to chop the larger ones into small pieces. And leave the rest as it is.
3. Cooking
The next step is cooking or boiling. Cover the mushrooms with water in a saucepan and boil them for at least five minutes.
4. Add to the Jar
Coming to the next step of canning mushrooms. In this step, you need to put all the chopped and boiled mushrooms in a jar. Again, make sure to leave one or two inches of space.
5. Put salt and vitamin C
In the next step, you need to add salt and vitamin C to the jar of mushrooms. You need to add half a teaspoon of salt to one pint of a mushroom jar. Also, to add color to the mushrooms, add one by eight teaspoons of ascorbic acid powder and 500-milligram tablets of vitamin C.
6. Add Water
In this step, you need to add fresh hot water to the jar of mushrooms. Also, make sure to leave one inch of headspace for boiling.
7. Sealing the jars
This is the last step of canning mushrooms. After all, this is done, this step is to seal the jars. Then, adjust the lids of the containers and process them according to the type of canner and canning method to use.
8. Turn off the flame and allow it to cool down
When the processing time is over, turn off the flame and let the pressure canner cool down. Open the canner only when the pressure drops down to zero. Please keep in mind to open the container automatically. This may take some time.
9. Take off the jars
And here comes our most final step, in this step put the jars out of the water and let them cool down on a wooden board, cloth or towel. Allow the cool at their normal pace don't let try to cool them down by force. And once the jar cools down, check whether the jars are properly sealed or not. And you're done! If you wish to reheat them, put all the contents in the canner and voila you're done!!
Which water to be used for Canning?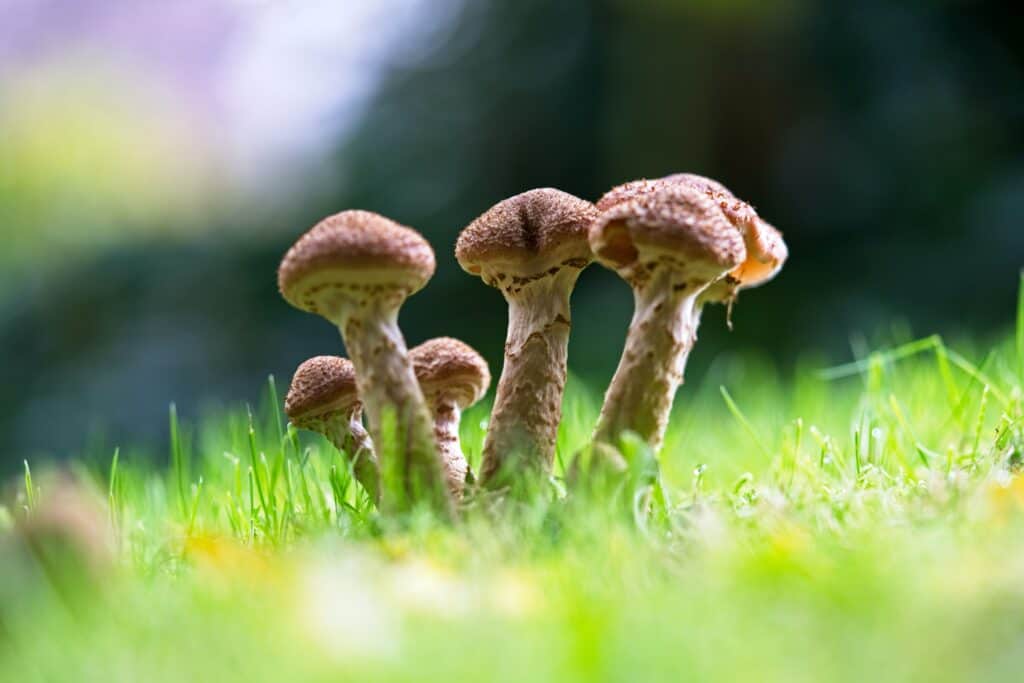 Just in case you are in doubt, let me clarify this to you. You can surely use the mushroom blanching water for canning the mushrooms according to Bernardin Guide. And you should use fresh water according to the USDA complete guide.
What are the uses of Canned mushrooms?
Mushrooms are used for various culinary purposes. It is used as an important ingredient in plenty of dishes like curries, sandwiches, soup, pizza, and many other dishes to make them more delicious. They can also be used as a topping of pizza, pasta, etc. Also, you can add them to salads and rolls. There are certain Indian recipes of canned mushrooms like a tandoori mushroom, mushroom matar, or mushroom biryani.
Now, you must be wondering about the ways to keep them safe and protected. First, they must be stored in a cool and dry place. Also, store them in a plastic or ceramic container.
What are the health benefits of mushrooms?
Mushrooms are very rich in everything, they are a rich source of all the proteins and vitamins. Therefore, they offer various health benefits as they are rich in protein, fiber, vitamin B, calcium, vitamin C, and other minerals.
Mushrooms not only are a rich source of health but they also keep us safe from plenty of diseases. They are good for the heart, boost its functions, build up immunity, decrease cancer risk, and protect us from various bacterias, fungi, and viruses. Mushrooms support our immune system, balance the blood sugar level, and balances blood sugar levels. It also reduces the risk of certain diseases. Overall mushrooms are a power booster and an excellent source of everything that our body needs.
Conclusion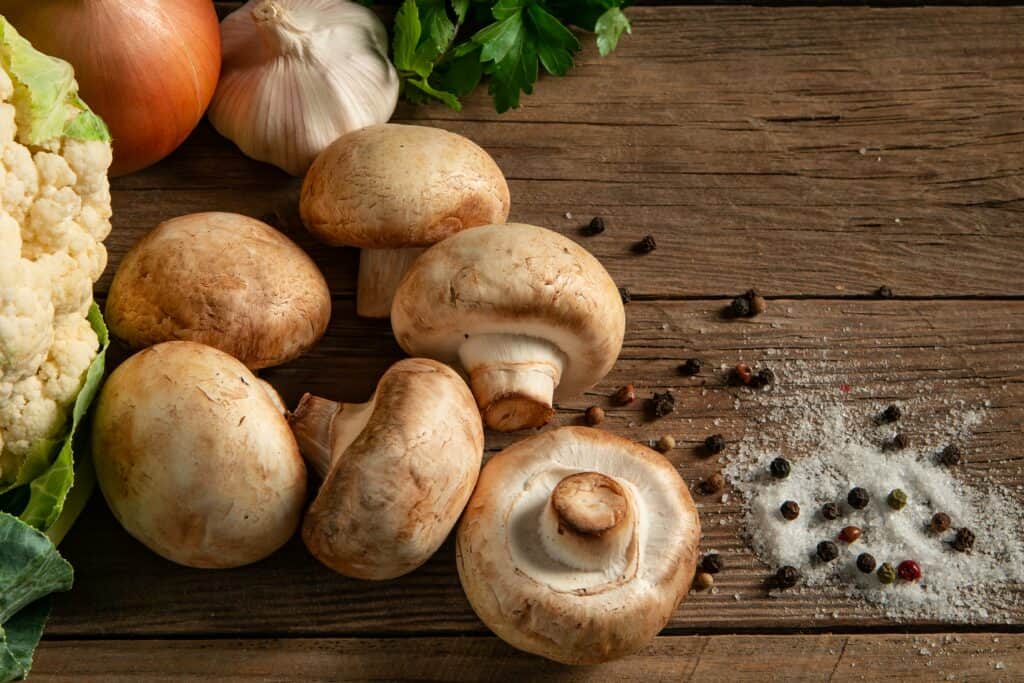 Aren't you surprised by the health benefits of mushrooms? How amazing and so full of benefits it is and it tastes delicious too. Most importantly, they are rich in vitamin B and certain acids like riboflavin and niacin. The niacin acid is good for maintaining healthy skin and for our digestive system.
That's all about it!! We hope this article about how to can mushrooms helps you. If you have any queries then feel free to leave them in the comments below! Also, check out some of our other canning guides here.